Tracing the names on a war
memorial reveals poignant
local histories.
Teaching English? Using ICT? Our book, Teaching English Using ICT
, is full of practical suggestions. 'This should become a standard text in the field of ICT in English education. But the best thing about it is that it has been written by English teachers, for English teachers.' Ian McNeilly, former Director of the National Association for Teaching English. Order from Amazon
or find out more here....
Taking or teaching A level?
Resources for
A Levels
are
here
. There are some suggestions for
reading about love
.
Never such innocence again
Download a booklet of
First World War poems
.
Hard topics?
Find out how English can be made easier with ICT in these
NATE resources
. See the
Entitlement document
, with practical examples.
'It cannot be regarded as a play of no importance'
Dresses for the first production of
A Woman of No Importance
.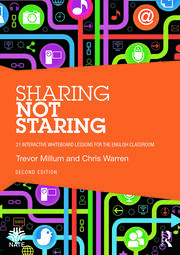 .
Sharing, not Staring
Sharing not Staring
steers teachers towards using the interactive whiteboard in ways which purposefully tap into its huge potential to make teaching more interactive, more exciting, creative and enjoyable. From conjuring tricks with Word and creative idea for PowerPoint to puzzles with the spotlight and the potential of images, the activities emphasise the questions rather than pat answers.