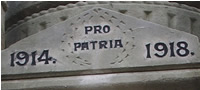 See the
First World War pages
too
And the selection of
First World War poems
AQA A Level English Literature Specification A (legacy)
LTA6: Reading for Meaning
Final re-takes: January 2010
The theme for this unit is War in Literature, with specific reference to literature written about and during The First World War. The final re-sit opportunity is in January 2010. If you are looking for materials for the new AQA Specification A AS Level English Literature, please see this page for the AS Option on the First World War.
Remember that it is essential to check from the AQA specification that you are aware of the details of this unit. Also on the AQA site you will find:
In this synoptic assessment, candidates will be asked to read and respond to unseen prose, poetry, drama and non-fiction, as well as pre-twentieth and twentieth century literature.
For reading suggestions and other resources, see the First World War pages.